D.E.W.S. is the Dog Early Warning System devised by Brigitte Blais of Okotoks, Alberta. In an effort to keep both children and dogs safe, Brigitte has developed an easy to recognize bandana color coding system for dogs to wear in public spaces. Using the three colours of the traffic lights, RED – YELLOW – GREEN, each bandana colour alerts oncoming pedestrians about how they should, or shouldn't, interact with that particular pet.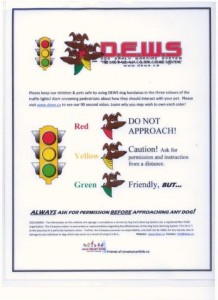 RED – Steer clear. This pet should not be approached.
YELLOW – Exercise caution. Perhaps the dog is in training and needs to concentrate on their lesson. Or perhaps they just had surgery and are not up for visitors that day. Regardless, ask permission and follow the instructions of the handler from a distance before trying to interact with that pet.
GREEN – Represents a friendly dog but REMEMBER ….
ALWAYS ASK FOR PERMISSION BEFORE APPROACHING ANY DOG!