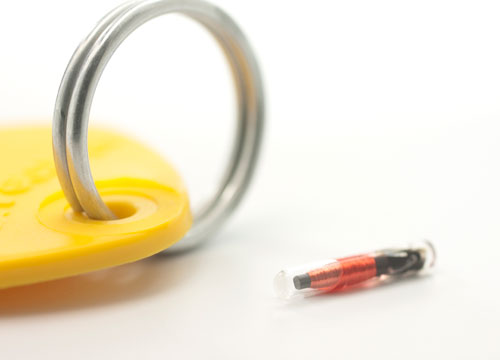 Microchips have helped reunite thousands of pets with their families. We offer the AVID microchip recovery system which uses FECAVA standards of universality.  Microchip products are safe and easy to implant into the deep subcutaneous tissue between the shoulder blades.  When implanted, avoid patting or rubbing the area for 24 hours to maximize adhesion in the deeper subcutaneous tissue and thus minimizing migration of the chip.
Some clients prefer a more visible ear tattoo as well to aid in the recovery of their lost pet, usually applied while the pet is anesthetized to be spayed or neutered. The tattoo lettering identifies the year the tattoo was created and the clinic where it was done.  Our clinic tattoo initials are ML. If the tattoo is in the right ear, this typically means the animal is already spayed or neutered.  The disadvantage to tattooing is that the ink can fade and become illegible.  In addition, its use is restricted to the provincial boundaries of Alberta.
Dog breeders often apply either a CKC (Canadian Kennel Club) or AKC (American Kennel Club) tattoo to either the ear or flank of their newborn puppies as part of their breeding identification process.  Microchipping popularity is increasing and likely tattooing procedures will become obsolete.