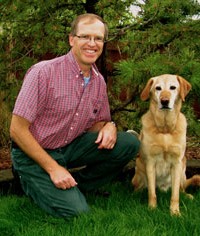 A native Calgarian, Dr. Allison had a variety of pets while growing up and developed a fond interest in animals and medically oriented sciences at an early age. A career path in veterinary medicine seemed logical and led him to study Agriculture (Animal Science) at the University of Alberta, then on to a degree, Doctor of Veterinary Medicine with Distinction, from the Western College of Veterinary Medicine at the University of Saskatchewan in 1981.
During his career Dr. Allison has worked with and encountered a wide variety of animal species and challenging situations. Employed for almost 16 years in a busy and progressive mixed animal referral practice, he gained insight into a broad spectrum of animal health issues and owner concerns. A focus on companion animal surgery and medicine resulted in his joining Dr. Carmen Miller at Midlake Veterinary Clinic in 1997 where he enjoys practicing high quality veterinary care on canine and feline patients. Dr. Allison likes to emphasize owner awareness and client education and believes being pro-active is a very important part of the overall health, wellness and preventative care programs for clients of Midlake Veterinary Clinic.
For the past 37 years Rob has resided in the rural community of Okotoks, 35 of those happily married to Alison. They have 3 adult children, Russ, Grady and Heather. The "children" are currently in various stages of pursuing their post-secondary educations and are intermittent inhabitants of the not so empty nest. Over the years the family has been fortunate to have had a number of wonderful animals in the clan and their current loyal retriever, Lager (14), is a devoted and loving tail wagger. Rob has a busy family life and enjoys a number of outdoor related sports and activities including, camping, hiking, horseback riding, golf, downhill and water-skiing, swimming, cycling and working out. He is an avid recreational hockey and racquet sport player and sports fan in general, regularly attending the Flames, Stamps, Roughnecks, Hitmen, and the Okotoks Dawgs. Although Rob still likes to be an active participant in all of these pastimes his body is finding it increasingly easier to tend toward spectatorship. Perhaps more Yoga and stretching in his future?