D.E.W.S. is the Dog Early Warning System devised by Brigitte Blais of Okotoks, Alberta. In an effort to keep both children and dogs safe, Brigitte has developed an easy to recognize bandana color coding system for dogs to wear in public spaces. Using the three colours of the traffic lights, RED – YELLOW – GREEN, each bandana colour alerts oncoming pedestrians about how they should, or shouldn't, interact with that particular pet.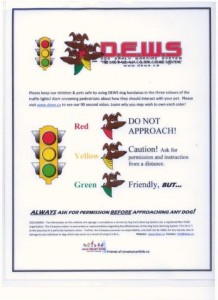 RED – Steer clear. This pet should not be approached.
YELLOW – Exercise caution. Perhaps the dog is in training and needs to concentrate on their lesson. Or perhaps they just had surgery and are not up for visitors that day. Regardless, ask permission and follow the instructions of the handler from a distance before trying to interact with that pet.
GREEN – Represents a friendly dog but REMEMBER ….
ALWAYS ASK FOR PERMISSION BEFORE APPROACHING ANY DOG!
The D.E.W.S. bandana system if gaining recognition in Calgary and surrounding areas in Alberta.  Watch for the colored bandanas and respect what the colors represent.
STAY SAFE!
Many dog bites can be avoided with bite prevention knowledge.
If you would like to learn more about D.E.W.S., consider enrolling in one of 4 free 1 hour classes presented through the Town of Okotoks Community Programs on September 13, 17, 20 and 24 or visit their website at www.dews.ca.
The Midlake Veterinary Clinic in Calgary has a limited number of free bandanas available for anyone wanting to participate in the program, while supplies last. Contact us at info@midlakevet.com to reserve a bandana today. Or order your bandana on-line at www.dews.ca.                 D.E.W.S. is a registered non-profit organization.